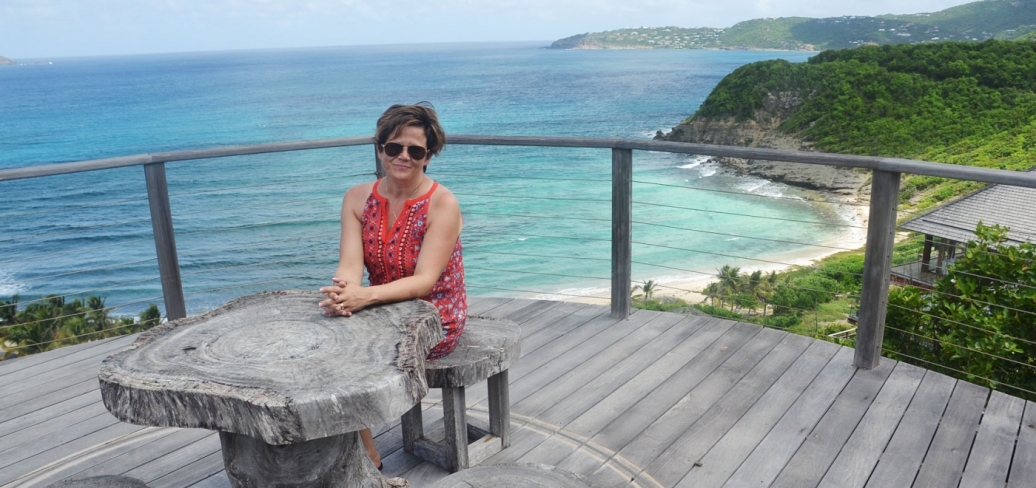 For Valentine's Day: A Perfect 10 Villa
By Eric Green | Feb 14, 2018
Villa Claridge is located on the heights of Anse des Cayes in St. Barts and is truly a private luxury villa rental property fit for royalty. With its breathtaking view out over the Caribbean Sea, onto islands too numerous to name, melting into the horizon, Villa Claridge conveys a feeling of opulence and prestige unlike any other. Completely unique and extremely private, this property not only seems to hold the world in the palm of its hand but also boasts a picture perfect private staircase, leading down the stunningly tropical hillside to the beach of Anse des Cayes below. With all the majesty of a red carpet, Villa Claridge is the ideal spot for young couples and those vacationing with friends who wish to experience the realities of the good life.
Mere footsteps from the capital of Gustavia, world-class restaurants, couture shopping, supermarkets and St. Barts Airport, Villa Claridge wants for nothing in acting as a base camp for out trips, beach visits, and shopping sprees.
The main common areas of Villa Claridge are simple, elegant and chic, enhanced by some very unique furniture choices that guarantee a new and wondrous experience. The living room, boasting a home entertainment system of television, satellite, Sonos sound system, and wireless internet throughout is a beautiful place to lounge, play games, read a book, indulge in conversation and enjoy the view from a shaded vantage point.
The enormous kitchen of Villa Claridge is equipped for ten people and resides within the main complex as well and boasts amenities hitherto unforeseen, including range, microwave, toaster, dishwasher and Nespresso coffee machine, ideal for shaking off a long evening of revelry and enjoyment or for simply arising to enjoy the intimate dawn moments before the sounds of life begin to erupt from all around.
Outside on the terrace and pool deck, equally indulgent pleasures can be found by way of both sun and shade. With ample lounge seating, a suntan is the easiest thing in the world to cultivate, all whilst enjoying good company, refreshment, and cocktails. Further, the pool and shaded areas offer a reprieve from the hot Caribbean sun whenever necessary and make indulging in games and frivolity as simple as can be.
Villa Claridge has four bedrooms and each is exquisitely and uniquely decorated to maximize comfort. Each bedroom comes complete with the same majestic view guests will be accustomed to as well as a Queen sized bed. The Master bedroom, connected to the living room also boasts air conditioning, fan, mosquito net, television with US satellite and DVD player, personal safe and private bathroom with shower.
Another bedroom boasts identical amenities, while the remaining two have the same Queen sized bed, air conditioning and fan, mosquito net, television, US satellite and DVD player and TWO bathrooms and showers each, one indoors and one out.
Enough cannot be said about the regal majesty of this property and the air of opulence and status it conveys simply by its existence. The premium location and magical setting add to this in creating a heaven on earth for travelers who want to experience first hand the true meaning of the Caribbean living in St. Barts.