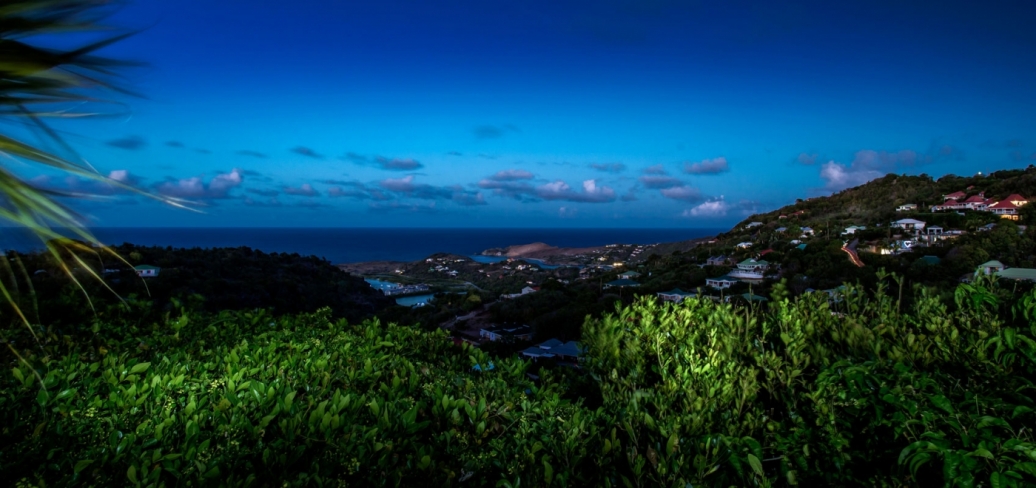 Vitet's Villa Vina
By Eric Green | Mar 01, 2018
Villa Vina is one of the most spectacular luxury private villa rental properties in St. Barts, the magical playground of the rich and famous. Located on Vitet hillside, near Lorient, this enchanting, modern and contemporary villa is in peak condition, inside and out and is one of the most extravagant and sprawling luxury rental properties on the island. Tucked away behind a heavy teakwood gate, Villa Vina is a secluded masterpiece of privacy, intimacy, and peace surrounded by walls, tropical gardens and embraced by the stunning, dreamlike majesty of the Caribbean Sea. With its close proximity to stunning sandy beaches, five-star restaurants, and designer fashion shops, Villa Vina is your paradise away from home!
This enormous property of Villa Vina is spread over more than three thousand square meters and several different buildings, all of which are connected by a series of luxurious decks, providing ample opportunity and incentive to be outdoors. These decks provide more than enough space to soak up the Caribbean sunshine together with drinks or alone, in peace with a favorite book. A central outdoor lounge features an enormous U-shaped lounge area to bring the whole family together, as well as an outdoor dining area with gas barbecue to feed everyone once they're there. The pool and view are another story, one of the finest on the island. Enjoy a refreshing dip, a relaxing soak or an evening of tender romance under the majestic St. Barts stars.
Villa Vina's interior living area is just as spectacular and features floor-to-ceiling sliding doors, allowing guests to open the entirety of the villa up or cordon it off as they prefer. The villas primary building boasts a luxuriously spacious living area with plush, inviting furniture, television, and satellite for anyone who doesn't want to miss their series and a stunning view of the sea for those more interested in soaking in their new surroundings as much as they can. Villa Vina's kitchen is top-of-the-line and state-of-the-art, equipped for ten with modern appliances in addition to a coffee machine and toaster for that extra pep in the morning! The primary building is connected to the rest of the estate via wooden decks with appealing and maintained landscaping alongside.
Villa Vina has five individual bedrooms, each replete with every possible luxury to ensure no guest goes wanting. Every single bedroom comes complete with King sized bed, air conditioning, television, satellite, ensuite bathroom and private shower. Four of these exquisite bedrooms face the turquoise infinity of the Caribbean outside whilst the fifth has a beautiful view of the estates prim and maintained tropical gardens. Each bedroom enjoys the gift of sunlight through large windows and glass doors. The master bedroom is further equipped with a private safe for valuables.
Staggeringly equipped and lovingly maintained, Villa Vina is hands down one of the finest luxury private villa rental properties on St. Barts, and its location doesn't take away from that. The nearest beach is lovely, sandy Lorient beach. Protected by natural reefs, this location is oftentimes less densely populated than other St. Bats beaches and therefore is more intimate and serene. The waters are inviting and just as beautiful as your private pool, if not more so. St. Barts capital of Gustavia – home to the most impressive restaurants, shop, AND ships on the island is a mere twenty minutes from Villa Vina and easily accessible at the drop of a hat. All of these wondrous benefits make this world-class private villa property the embodiment of all the extravagant opulence that makes St. Barts world famous!