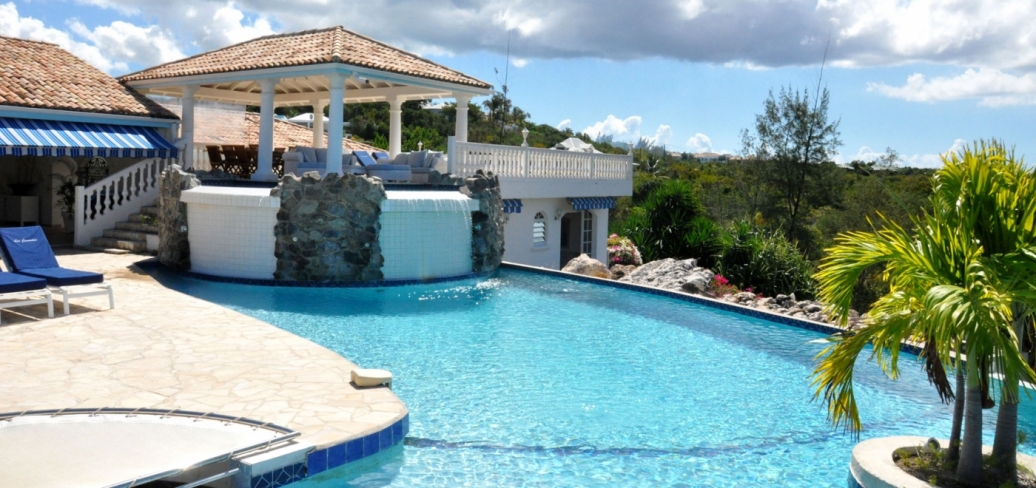 The Bliss Overflows at Villa Cascades
By Eric Green | Jun 14, 2018
When you close your eyes and picture a private villa in the Caribbean Sea, each of us sees it differently. However, I guarantee that each one of us WILL picture something that looks very much like St. Martin's Villa Cascades, one of the most beautiful and timeless properties on the island. From it's comfortable, inviting common areas and inspired bedrooms to the magnificent views from the terrace and the pool for which it is named; every pleasure imaginable becomes a reality at gorgeous, top-of-the-line Villa Cascades.
Located minutes from the nearest restaurants and markets in and only a stones throw from the pristine nearby Plum Bay beach, Villa Cascades allows for guests the choice to experience the peaceful seclusion of French St. Martin, the wonderful culture of Dutch St. Maarten or to remain aloof from the world, neatly tucked away in privacy and comfort.
Overlooking the beautiful vista of Plum Bay itself, this villa flows throughout like a stream and is ideal for entertaining, Caribbean style. As you enter, Cascades' generous, breezy interior spaces are reminiscent of a Greek temple and make for a serene experience and include a lovely, modern living room with television viewing area, a dining area that extends directly out to the terrace like a dream, allowing for gorgeous sunset meals against the Caribbean backdrop and a fully equipped kitchen with modern appliances and amenities.
Truly the piece de resistance of Villa Cascades is the two-tiered terrace and cascading pool from which the property takes its name. Unbelievable space is provided for lounging, sunbathing, outdoor activities and anything else guests can dream up. The terrace itself overlooks the stunning natural beauty of Plum Bay and is not only the highlight of the property, but also a boasts a once-in-a-lifetime opportunity to soak in one the life-changing, romantic Caribbean sunset.
Each of Cascades six bedrooms is uniquely decorated, so guests can choose the perfect match for their mood and personality. Each room comes with a luxurious en-suite bathroom and air conditioning, ideal for comfort during the hot St. Maarten nights as well as a lovely reprieve throughout the day.
For guests who wish to maintain their workout regimen amidst the eating, drinking, and merry-making of any good holiday, Cascades also boasts a large exercise room on the lower level – with gym, equipment, facilities and games – and an outdoor tennis court.
Amenities, atmosphere, and elegance come to life at Villa Cascades, making it one of the most luxurious, enjoyable and serene destinations, fit for guests from any walk of life.