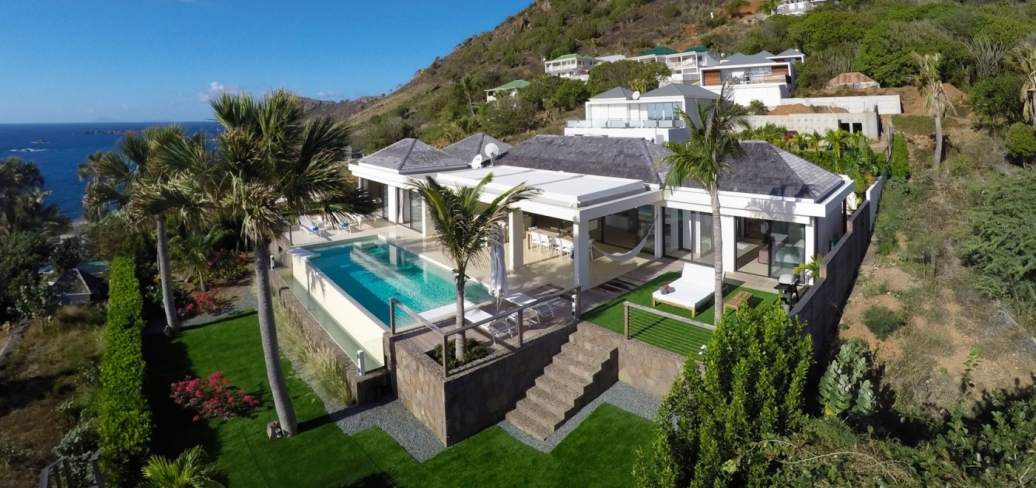 Zoom In On Villa Enzuma
By Eric Green | Jan 31, 2018
Villa Enzuma is a beautiful, newly built villa rental property on the famous island of St. Barts, embodying all the traits that its home is known for. Elegance, simplicity, luxury, and class are traits that spring to mind in Villa Enzuma. Located on beautiful Toiny Bay, this rental property offers superb views of the Caribbean both day and night and the natural rock formations just outside the property seem to render the Sea itself yours alone. Just twenty minutes from the capital of Gustavia and less so from nearest restaurants, groceries and chic, upscale shopping, Villa Enzuma is removed enough to ensure serenity and peace, yet not so far that guests can't take full advantage of all there is to be had on the island of St. Barts.
Walking down the steps and into the clean, open white interior of Villa Enzuma, guests are greeted by the open concept main villa with a wonderful view of the exterior amenities and the Caribbean Sea beyond. The main living area, with ample couch seating, television, DVD and both French and US satellite is perfect for restful retreats from the heat. Next, the sleek, chic and modern kitchen boasts beautiful appliances, including coffee and espresso machines, dishwasher and dinette seating and a prep island for whipping up anything the mind can conjure.
Heading outside one the private pool deck, the true beauty of Villa Enzuma becomes starkly evident. Flanked on either side by lounge and dining area, the pool itself is wonderfully located to catch the sun at all hours of the day and provides a luxurious vista from which to enjoy the Caribbean sunrise, shine and set! The elegant and tasteful outside dining area provides more than enough room for all, allowing guests to dine in unencumbered freedom. The lounge area opposite features reclined chez lounge seating and even a hammock, perfect for catching a quick nap or simply unwinding from the pleasures of the day.
All three of Villa Enzuma's bedrooms are competitively stocked and feature a seaside view, making them ideal for privacy and intimacy. All three have mosquito netting, Queen sized bed, air conditioning, and bathroom access. One room features it's own en-suite bathroom as well as a private terrace at the back, making it ideal for a couple in search of some much-needed romance, while the other two share Villa Enzuma's larger, beautifully crafted second bathroom.
When vacationing in St. Barts, luxury and high-life living are what is expected and Villa Enzuma, with its sprawling, open exterior and world-class amenities delivers on in spades. Guests will enjoy the full breadth of Caribbean private villa living, complete with serenity, security, and seclusion, while also taking in the life and culture of the island itself.