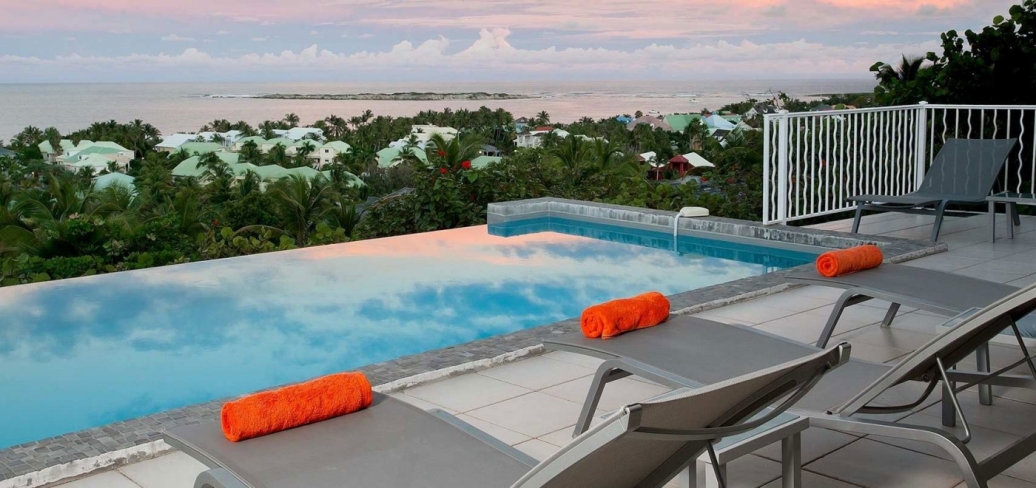 Livin' La Pura Vida at Villa La Sarabande
By Eric Green | Apr 03, 2018
Villa La Sarabande is a stunning, spacious and inviting Arabian styled luxury private villa rental property located within the auspices of Orient Bay in French St. Martin. An atmosphere of invigorating peace and serenity pervades the villa, which is surrounded by natural tropical beauty and overlooks Orient Bay – one of the islands most beautiful beaches - and the stunning Caribbean Sea beyond. With a unique blend of modern and classical Arabic décor and furnishings, Villa La Sarabande is an ideal retreat for those seeking a truly one-of-a-kind property, and guests will find the combination of new-world amenities and old-world style particularly enticing, like the wafting aroma of a wondrous foreign spice. Location, opulence, and peace combine to put Villa La Sarabande above and beyond other properties on both sides of the island.
Decorated with art and style reminiscent of adventure and exploration, Villa La Sarabande boasts a spacious and comforting interior living area for the entire party to enjoy. The main living room – with French and American satellite, television, stereo system, iPod dock, and WiFi - is home to enough plush couch seating to make a Sultan blush and is the perfect place to relax and enjoy a moment alone throughout the day. The dining area, attached to the main living facilities, is elegantly decorated and perfect for a candlelit evening meal enjoying the stars beyond the horizon.
Villa La Sarabande is also home to a state-of-the-art, luxury kitchen for those brave enough to attempt more than a cocktail, and for those who wish to fully embrace the opulent attitudes the villa invokes, the kitchen is equipped with a refrigerated wine cabinet. Villa La Sarabande even has a premier ice machine to ensure that minimal effort is required in every endeavor!
Villa La Sarabande is home to three world-class bedroom suites with names! "Ali Baba," "Grenade" and "Massai" are each replete with designer furnishings and ensuite bathrooms, as well as King Sized beds (in one case, combined Twins), air conditioning, satellite television and private terrace, personifying luxury and comfort at any time of day or night.
The exterior of Villa Sarabande is much more than just the view and the gardens as the lounge opens onto the properties sheltered terrace, perfect for relaxing and enjoying sunshine and cocktails with friends and family, soaking in the Caribbean sun and making memories under the wondrous starlit night sky. One cannot shake a stick at the properties magnificent cascading pool, which gives the illusion of being the very Caribbean itself!
Complete with a housekeeper, gardener and pool person, Villa La Sarabande is exotic opulence personified from front to back, top to bottom. Ideal for guests seeking an exceptional experience that is wholly unique, this luxury villa rental property is easily one of the best in all of St. Martin and Sint Maarten.