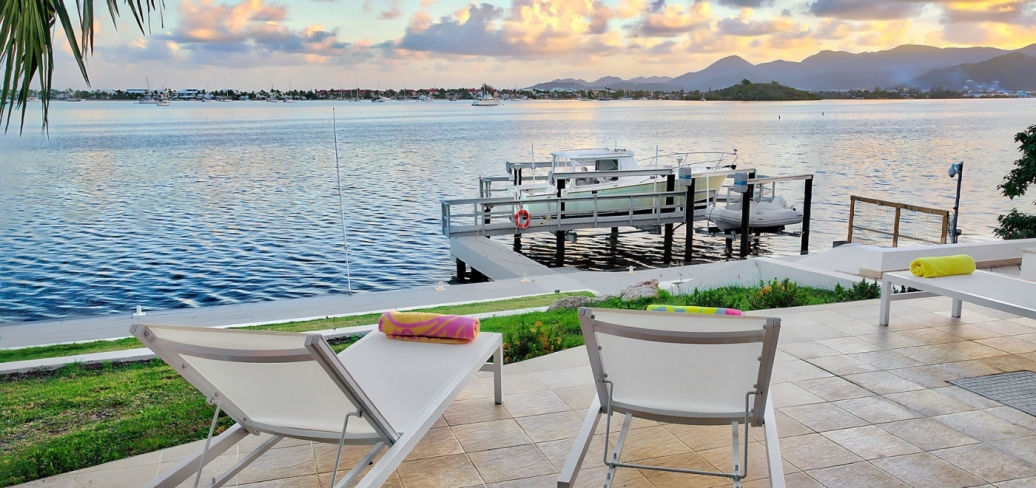 Amaryllis: A Villa View Like No Other
By Eric Green | Apr 16, 2018
Nestled into the stunning waterfront of Simpson Bay, Villa Amaryllis offers the truest experience of Caribbean private villa rental. This luxurious fully air-conditioned, five bedroom residence, with private boat dock and pool overlooking the lagoon and the French Lowlands in the distance, is the height of luxury and convenience. Located in a gated community, just minutes from Maho, Amaryllis provides guests effortless access to both of the alluring personalities of St. Martin – the simple peace of the French side and the busy excitement of Dutch St. Maarten. The beautiful white sands of Mullet Bay and Cupecoy beaches are only a stones-throw away.
As you pass through the villas modern, arched entrance it's hard not to be reminded of the Spanish castles of the 16th century, remade for the 21st – not an inaccurate thought, as Amaryllis boasts above all a feeling of serenity, seclusion and safety. Built on three tiers, the villa dazzles the eye with its wonderful white interior.

The main level features an expansive and comfortable living area, complete with enough couch space for a small army, television, American and French cable channels, fan and subtle artistic accent pieces. Sliding glass doors open onto the plush, inviting outside living area, dining area, private pool and beautiful sun deck, reflecting the historical elegance of its Caribbean island home. Perfect for lounging, eating and conversing, or simply escaping the world with a cocktail and book, the exterior amenities of Villa Amaryllis leave nothing to be desired.
The quietly elegant kitchen, fully stocked with stainless steel appliances is located just off the inside living area. Perfect for solo ventures or a team effort, the kitchen has a wide pass-through window and breakfast bar, opening into both the living area and the outdoor terrace.

The first of the villa's inviting bedroom suites is located nearby on the main floor and is fully furnished with Queen sized bed, television, spacious walk-in closet and private en-suite bathroom.

The upper level houses the second bedroom, equally as comfortable, with Queen sized bed, television, adjoining bathroom and walk-in closet. This bedroom is also equipped with a quiet, romantic private terrace, overlooking the villa's pool and the staggering beauty of the lagoon beyond.

Each of the remaining bedrooms is located on the lower level of the villa. Two have their own terraces and en-suite bathrooms and the fifth bedroom has its own independent access. All three match their upstairs counterparts in luxury with Queen sized bed and television.