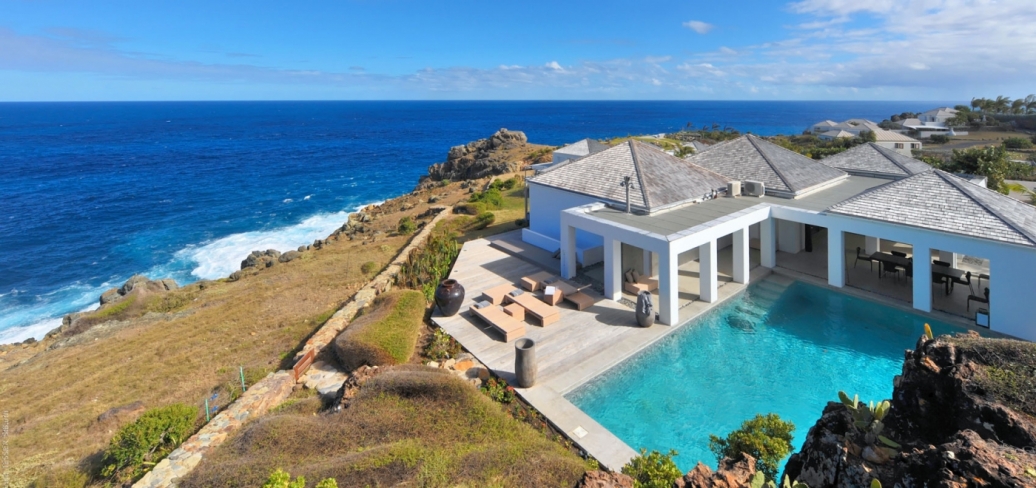 Perched In Paradise
By Eric Green | Jan 22, 2018
Villa Casa del Mar is above and beyond one of the most stunning luxury private villa rental properties on the island of St. Barts. Beatifully private and secluded in every sense of the word, Villa Casa del Mar is located at the top of the private Domaine du Levant estate on the bay of Petit Cul de Sac. This exclusive locale hosts only fifteen villa properties – with private beach access – for the absolute pinnacle of pleasure and privacy with an unparalleled view of the majestic Caribbean sea. When you envision exceptional private luxury villa experiences, Villa Casa del Mar is beyond the wildest imaginings.
The sprawling, modern main estate and guest villa of Case del Mar sit atop Domaine du Levant, twenty minutes by car outside of St. Barts capital of Gustavia and is home to the finest amenities the island has to offer. Boasting not one, but two separate pools (one heated), Jacuzzi, fitness room with weights and rowing machine, Wi-Fi, satellite and Sonos sound system throughout, Case del Mar lacks for nothing in regards to comfort and entertainment. This luxury private villa also has private staff, including a housekeeper, six days a week, pool maintenance, gardener and fresh household linen and towels, turn down service and continental breakfast every day. Guests need not lift a finger during their stay for anything other than leisure.
Entering Villa Casa del Mar, the living room is a sight to see, with plush, inviting lounge furniture, large television and home cinema system, air conditioning and library, all comfortable on the lower floor of the villa with a lovely view of the ocean. The professional kitchen, equipped for 14 people, boasts all the amenities one could want to prepare any delight. Microwave, coffee machine, espresso machine, toaster, blender and dishwasher make this world-class kitchen one of the finest imaginable.
Villa Casa del Mar has six separate bedrooms; four in the main villa and two more located in the guest villa, complete with separate kitchen, living room and pool.
All six bedrooms boast ocean view, King sized bed, air conditioning, personal safe, television with US satellite, DVD player, private bathroom and shower. Further, all are decorated in fashionable, chic, modern style, making them not only the perfect place to retire in the evening but also wonderful for midday naps and romantic time alone.
The sheer opulence of Villa Casa del Mar cannot be overstated. The open, inviting design and layout of the villa, the wonderfully private locale of Domaine du Levant and the world-class amenities are marvelous to describe, but the atmosphere – the very soul – of this one-of-a-kind villa do not translate into words. Standing atop the cliff, looking out on the wondrous Caribbean Sea, the very air at Villa Casa del Mar tastes of serenity, prestige and freedom.