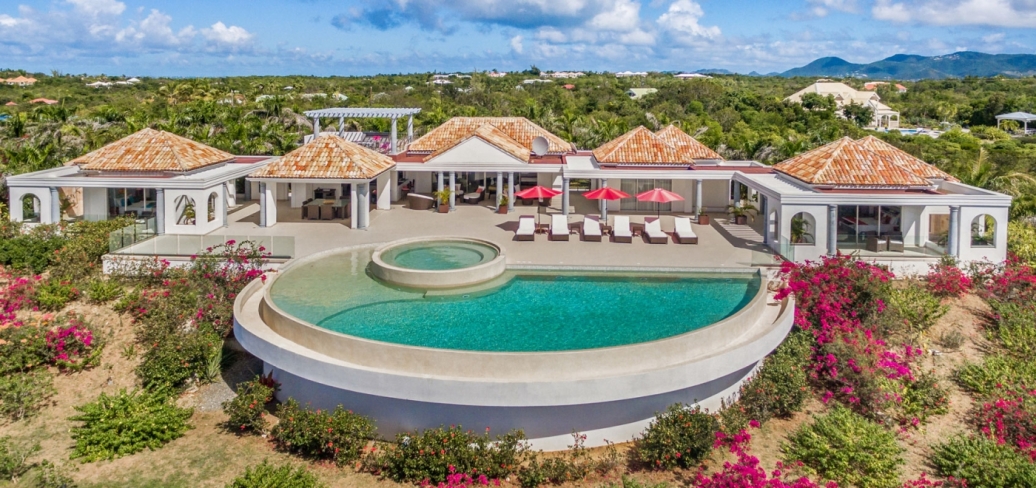 This Just In! Villa Just In Paradise, Your Dream Villa Property
By Eric Green | May 09, 2018
The moment you arrive in the elaborate courtyard of Villa Just In Paradise, you will understand the reasoning for the name. Wonderfully fitting, there is no other way to describe this property; it's simple beauty, unassuming seclusion, and effortless elegance make it just that; just paradise. Tucked away in the airy reaches of Terres-Basses, this St. Martin jewel is one of the finest properties on the island and in the Caribbean itself.
Villa Just In Paradise is a subtle yet stylish contemporary villa with one-of-a-kind views. On your way inside, the coolly covered walkway offers a wonderful refuge from the sun and leads into an even more wonderful refuge from the world. The walk is flanked on either side by small pools of exotic water plants, as jasmine, allemande, and bougainvillea lend their perfumes to the air and magnificent palms stretch themselves ever upwards towards the Caribbean sun.
Enter the double doors and the panoramic view unfurls before you like a mosaic. From the main terrace, you can see all the way from Long Bay Beach, westward to Plum Bay Beach, a mere 15-minute walk from the villa. This vantage is dwarfed only by trekking further up to the villa's roof, which boasts an unparalleled, full 360-degree view. Sunset from this spot is beyond description and is itself worth the time spent between here and home. Truly you feel as though you've left the world behind and entered into another all your own; quiet, idyllic and peaceful.
Although so wonderfully secluded, Villa Just In Paradise isn't far removed from the famous amenities of the island. Long Bay and Plum Bay beaches are within walking distance, and you're just a five-minute ride from Le Sand, Dreams and Mezza Luna, three of the finest restaurants on the island. Five minutes further will take you to the French-side capital of Marigot with restaurants, shops and galleries, historic buildings and the best Creole Market in the Caribbean. Drive twenty-five minutes by car to Grand Case and thirty to Philipsburg's shopping haven. Perfect for arrival (and somewhat mercifully for departure, where a prolonged exit could be painful) the villa is only ten minutes from Sint Maarten's airport.

Inside, floor to ceiling glass doors connect the villa's interior with its' exterior quite effortlessly, opening to the sprawling exterior where the outside sunning terraces, dining and lounging areas give way to the nautilus-shaped infinity pool. The villas' layout plays to its natural visual assets. Deep covered verandas and terraces for sunning scatter around the house while dining and lounging areas are strategically positioned to embrace the view.
The living and dining rooms, like the rest of the villa, are completely open, with high vaulted ceilings, modern furnishings in grey, taupe, and cream with accents of color. The living room provides ample seating, a beautiful flat screen television, and bar, with a powder room located just off the living room. One of the best features of this room is the ability to transform it into an indoor/outdoor space by opening the full length sliding glass doors that pocket into the side walls allowing easy access to the large terrace.

The large outdoor dining table offers seating for 12 under shaded cover and with a constant light breeze to keep you cool. It also features a TV and fan. Enjoy casual breakfast and lunch or a formal dinner looking out at the passing cruise ships at night with bright stars above. In the kitchen, the black countertops and matching island offers up a perfect culinary palette for those inclined to cooking and hosting. Boasting a special teppenyaki grill and a pass-through area from the outdoor BBQ, the villa's kitchen is yet another small paradise within Just In Paradise.

The villa's three bedrooms are equal in size, spacious, and replete with every comfort– no one ever needs feel jilted, regardless of which room they take. Each has private indoor and outdoor seating for time alone, and each room has a unique color scheme. Each has a private bathroom with double vanities and walk-in showers connected to outdoor showers with an ocean view. All three have direct access to the pool deck and are outfitted with King-sized beds, television, DVD, dressing room and unique art pieces to contemplate.
Complete with an on-site staff of housekeeper, gardener and pool service for Just In Paradise's free-form pool, heated whirlpool and swimming pool proper, this Sint Maarten property lacks for nothing in the ways of simple and all-encompassing pleasure for its guests.