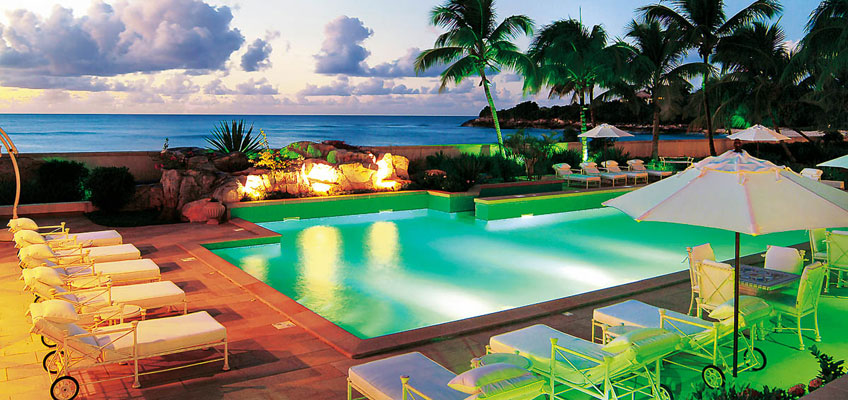 Opulence Embodied In St. Martin's Villa Chateau Des Palmiers
By Eric Green | Aug 11, 2018
Villa Chateau des Palmiers, located in French St. Martin, is one of the finest premiere villa rentals in all the Caribbean. The opulence, luxury, and beauty of this estate cannot be understated and is matched only by the immaculate service and breathtaking natural beauty that surrounds it. Guests at Villa Chateau des Palmiers will find themselves immersed in a one-of-a-kind experience, akin to the finest international hotels, coupled with ultimate privacy and the very pinnacle of comfort and amenities.
Located on the pristine white beaches of Plum Bay, Villa Chateau des Palmiers is ideally situated to allow guests to enjoy every possible Caribbean delight. The beach starts where the chateau ends; perfect for sun or shade at a whim. Intimacy and security are guaranteed within a gated community with state-of-the-art security, and the sheer expanse of the property ensures privacy for anyone wishing to get away at any moment. Five minutes from Marigot, capital of the French territory of St. Martin, as well as groceries, shopping and restaurants, Villa Chateau des Palmiers boasts the all-encompassing splendor of the French side while also offering quick and direct access to Dutch St. Maarten for guests wishing to enjoy the bustle of shopping on the islands busier side.
With the appeal of a fine French estate, the chateau is a fully modern, sprawling testament to the high life, and lacks for nothing in terms of comfort, care, and freedom. Boasting full air conditioning, an enormous, fully-heated pool, an indoor fitness center, outdoor tennis court with covered awning bar, billiards room, indoor and outdoor dining facilities and a four-car garage, Villa Chateau des Palmiers is second-to-none and guests to the chateau will enjoy the absolute finest experience money can buy, not to mention a staggering view of the marvelous St. Martin sunset.
Nine bedrooms grace the property, each with King sized bed and private bathroom. The ocean side of the property is home to five bedrooms - including the two-story master suite, complete with private office – and two private balconies facing the chateaus' pool and the ocean beyond. Each of these rooms comes complete with Internet capabilities and independent satellite television. The garden side of the chateau houses the other four bedrooms, each again with individual private baths and independent satellite access. The garden side of the chateau is also located close to the enormous commercial-grade kitchen, making it ideal for foodies!
Villa Chateau des Palmiers also boasts service fit for a Sultan, with pool service, full-time housekeepers, gardeners, electrician, and maintenance man, chef and private butler – guests will find that there is not a need that will not be sated as soon as it arises after arrival. Equipped with a state-of-the-art mosquito repellant system, nothing has been missed in ensuring an absolutely heavenly experience in this Caribbean paradise.